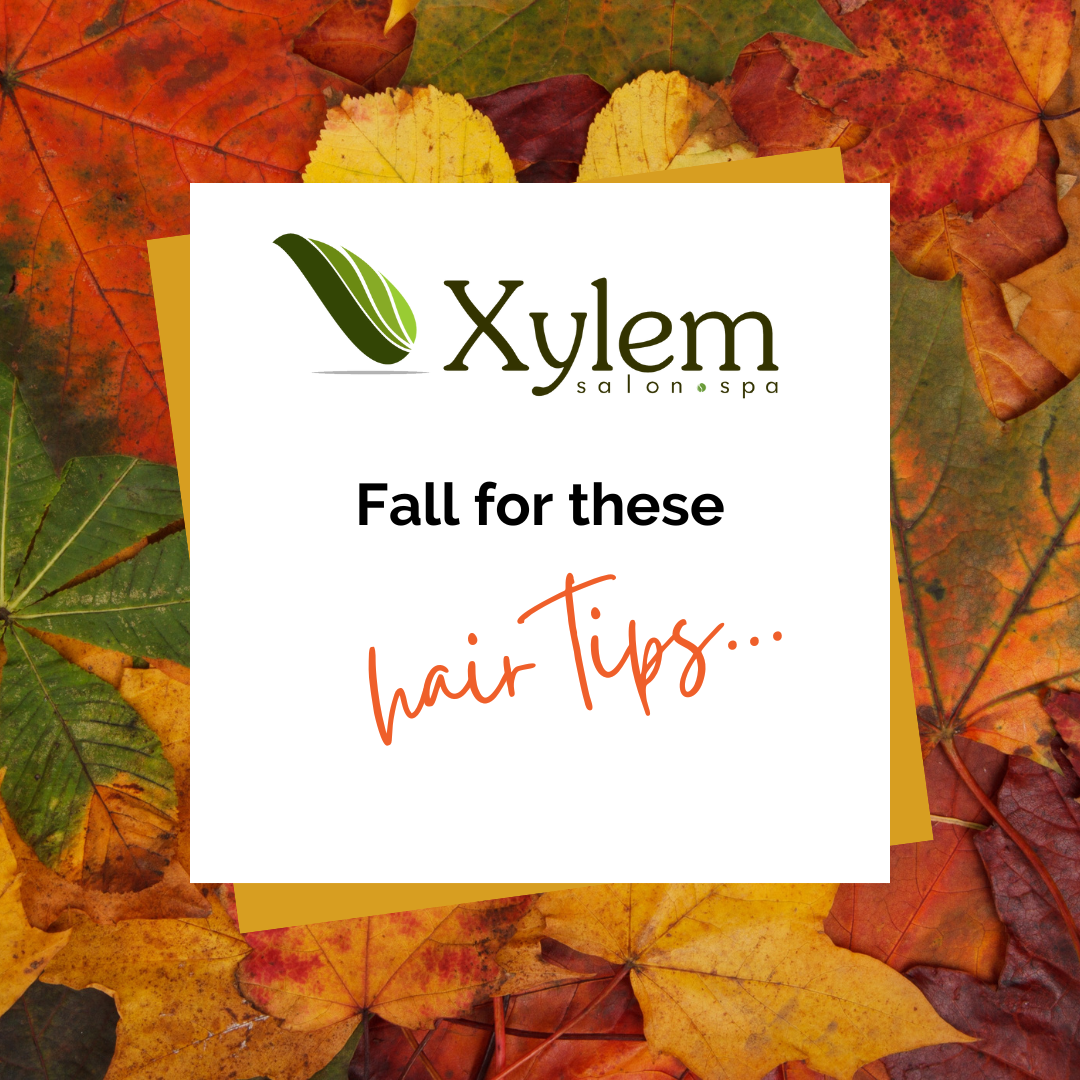 25 Sep

Fall for these hair tips!

As the season mellows slowly into Fall, here are our tips for Fall hair care to help you turn over a new leaf.
Repair sun-stressed tresses
Summer sun, chlorine and sea salt can leave hair dry and brittle, and your color faded.  So let's kickstart your Fall routine with a trim. Saying goodbye to those sun-damaged split ends will instantly refresh your look and prepare your hair for the new season.
Your scalp can suffer too becoming dry, itchy and irritated. Try scalp serums or an exfoliating scalp treatment like Aveda Scalp Solutions scalp care line.
Next up, hydration.
Using a deep conditioning treatment or hair masque at least once a week will replenish your hair's moisture levels and combat dryness.
Aveda's Nutriplenish treatment masque (light or deep) nourishes your hair from midshaft to  tips, helping restore the moisture lost during the hot summer months. Leave it on for 5 – 10 minutes and let it work its magic – it's packed with nutrient-infused superfood to lock in moisture, reduce frizzing and boost shine.
Fall for new cleansing routines
Chilly, blustery weather and dry heating combine to strip your hair of its natural moisture, leaving it brittle and prone to breakage.
Switch to a hydrating shampoo and conditioner, like Nutriplenish light or deep shampoo which are formulated to replenish your hair's moisture content, leaving it soft, manageable and shiny.
Tempting as standing under a hot shower is on a chilly morning, hot water can also strip hair of essential oils, leaving it dry and dull, so wash your hair in cool water instead. As an added bonus, it will help keep your color vibrant and fresh too.
Our other top tip is to reduce shampoo frequency, as over washing can strip your hair of its natural oils. Use a dry shampoo (We like Aveda's Shampowder dry shampoo) once a week.
Chill out this Fall
As the temperature drops you may be tempted to use your heat styling tools more often to tame your mane.  But overuse of hot tools can strip your hair of its natural oils, causing breakage and frizz. Try to minimize their use by opting for natural drying whenever possible, and explore heatless styling ideas such as braids, twists and buns which cause less damage.
When you do use your heated tools always apply a heat protectant like Botanical Repair Strengthening leave-in or Color Control leave-in to shield your hair.
Say no to fall frizz
Suffering with frizz? Try our top frizz-and-frazzle-fighting tips for smooth operators:
🔥 Cut back on heated styling tools.
✂️ Get regularly trims to remove dry split ends.
🧴 Use specially formulated anti-frizz products (we love Aveda's Smooth Infusion anti-frizz hair care line).
🚫 Overbrushing can damage the ends causing frizz.
🚿 Avoid washing hair too often.
Ready to fall in love with your hair this Fall?
Why not book a complimentary consultation with us for your personalized Fall hair care plan. And, if you feel like a refresh of color, we can also chat through your fall hues for a new 'do'.
Call, text or DM us!
~ Xylem Salon & Spa